Financial Planning
Study abroad is an investment in your future! With proper preparation, you can plan a viable study abroad experience that fits your financial needs. Keep in mind that Cal Poly offers a wide array of study abroad programs, in a variety of different locations. Each program has different costs associated with it, and some programs are more affordable than others. Your first step is to explore different programs, and identify one that is financially a good fit for you.
---
FINANCIAL AID
Cal Poly students may be eligible for financial aid if enrolled at least half time in a Cal Poly study abroad program. Even if you have never received financial aid, you may want to investigate the possibility of receiving financial aid when you study abroad.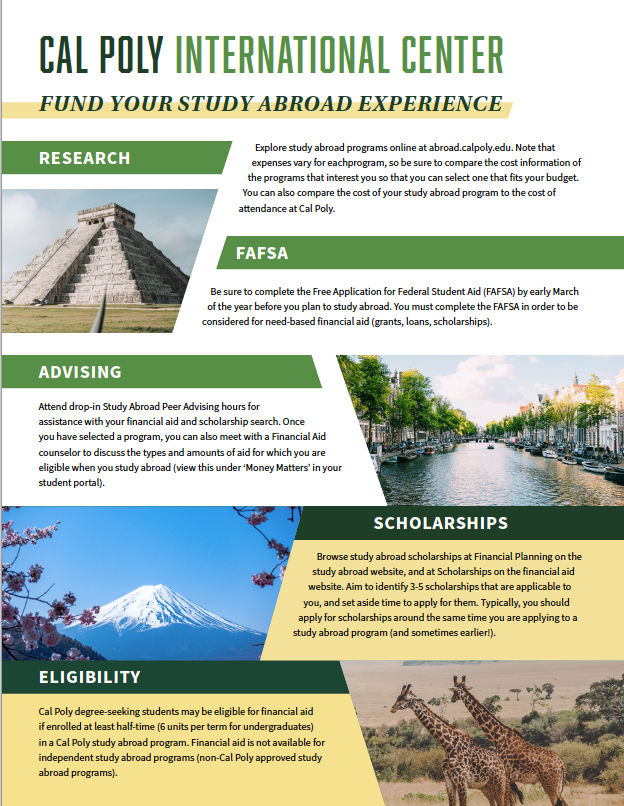 Start by reading the

Fund Your Study Abroad Experience

handout to see how financial aid can be applied to study abroad.
Complete the FAFSA
- To apply for financial aid, complete the
Free Application for the Free Application for Federal Student Aid (FAFSA)
by the March 2 deadline. Once your FAFSA is complete, you will be considered for the various types of financial aid offered at Cal Poly, including grants and loans.
Get your Award Adjusted
- Once your financial aid is awarded, verify which types of financial aid can be applied to your study abroad program. Consult a Financial Aid Advisor to see if your aid can be increased in order to allocate for any additional costs associated with your study abroad program. Remember to accept your award in your portal!
Plan Ahead
- Your Financial Aid Award will be disbursed on or around the first day of the quarter at Cal Poly, regardless of the actual start date of your study abroad program. Plan ahead to cover your plane ticket and other pre-departure or arrival costs, which you may need to pay for before your Award is disbursed.
Summer Financial Aid
- Financial aid is limited in the summer. Awards typically consist of any unused loan amounts from the previous academic year. Consult a Financial Aid counselor for details.
Watch this video to learn about Financial Aid & Scholarships for Study Abroad:
---
SCHOLARSHIPS
You are encouraged to research and apply for merit- and need-based scholarships to help fund your study abroad experience. Below are several categories of scholarships and fundraising tools.
LGBTI Scholarship Resources:
---
Boren Awards for Study Abroad
Scholarship Tips
Dedicate several hours to browsing scholarships.
Set a goal to identify 3-5 scholarships or grants to which you will apply.
Set aside several days to work on your scholarship applications.
Apply for scholarships around the same time you are applying to study abroad.
Remember: focus on quality in your study abroad scholarship applications!
Scholarship & Financial Aid Advising
Financial Aid Office
INTERNATIONAL CENTER FEE POLICY
All students participating in Cal Poly-sponsored programs abroad and through the National Student Exchange (including Cal Poly Global Programs, CSU International Programs, affiliate partner programs, domestic and international exchange programs, and internship programs) must pay the non-refundable $400 International Center (IC) fee. This fee is in addition to program tuition and other charges, and supports the administration of study abroad at Cal Poly, which typically includes professional and peer advising, marketing and outreach, application processing, pre-departure guidance, orientation and workshops, program and advising materials, support while abroad, returnee programming, facilitation of academic credit processing, and program assessment.

At the time the Cal Poly Abroad acceptance letters are sent, students will have seven (7) calendar days in which to withdraw from their participation in the program and not be assessed the $400 International Center Fee. For students participating in Cal Poly Global Programs, the $400 IC fee is included in the student's non-refundable program deposit.

The IC fee cannot be deferred until federal financial aid is disbursed for the term in which the student is going abroad. Failure to pay the IC fee will prevent the student from enrolling in future Cal Poly terms. Students will be charged the IC fee for each individual off-campus program to which they are accepted.

The IC fee is non-refundable. Once a student is committed for a Cal Poly Abroad program, the student is responsible for paying the $400 IC fee even if the fee has not yet been charged to the student's account. If a student cancels/withdraws his or her application after receiving notification of acceptance into a study abroad program, the student is still responsible for paying the IC fee. For further information on payment policies for Cal Poly Global Programs, see the specific cost/budgeting information for each program.