Pre-Departure Resources
STUDY ABROAD ELIGIBILITY REQUIREMENTS
Students must be in good academic and disciplinary standing at Cal Poly in order to be eligible to participate in study abroad or exchange programs. In addition, students must meet the eligibility requirements of their chosen programs. Academic eligibility standards vary by program and most require a minimum GPA and at least one letter of recommendation. Participants may not study abroad during their first quarter at Cal Poly. Students who are on Academic Probation or Disciplinary Probation at the time of application, or the term prior to studying abroad, must notify the International Center. Normally, such students will be considered ineligible to participate in the program unless extenuating circumstances exist, and the International Center gives its approval. Students are strongly encouraged to seek pre-approval for courses prior to departing for their terms abroad. If a program is located in a country where there is a U.S. Department of State Travel Warning, Cal Poly may not provide the approval to participate in the program, or provide pre-approval for the transfer of credits.
PRE-DEPARTURE RESOURCES FOR STUDENTS
PRE-DEPARTURE ORIENTATION SLIDES & VIDEOS
2023 WINTER & SPRING PROGRAMS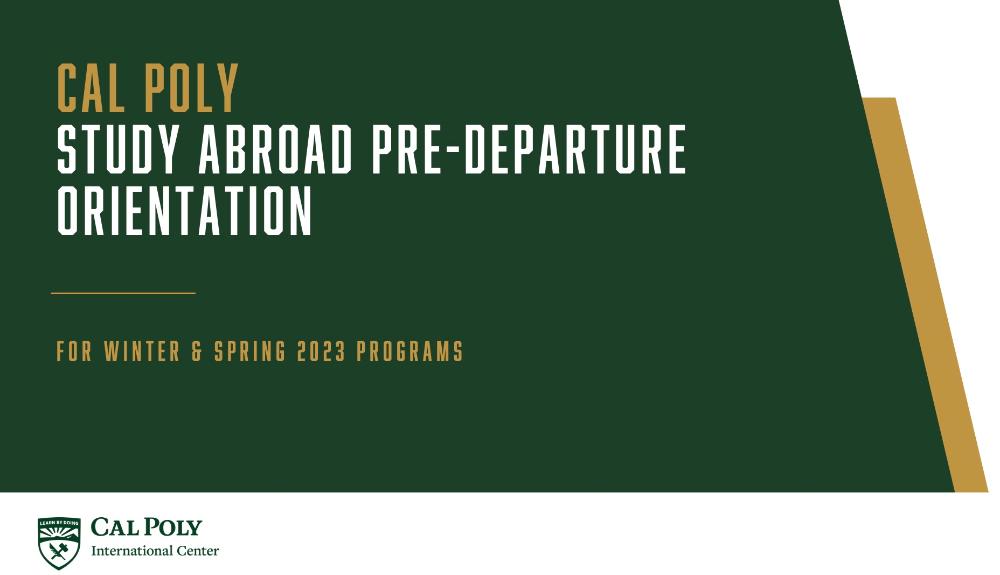 PASSPORTS & VISAS
A valid passport is required to travel internationally. Each country has their own entry requirements so it is important that students review those requirements for the countries they plan to visit. For example, some countries require that visitors have a valid passport for at least a year upon entry, whereas other countries only require six months. For information on entry requirements for U.S. citizens visiting a specific country, please visit the Entry/Exit requirements section in the Country Specific Information pages on the U.S. Department of State website.
How to apply for a passport
For U.S. citizens: Visit the U.S. State Department website for detailed information on applying for and renewing passports. Check out the Passport Offices in San Luis Obispo County website for locations and application.

Regular processing time can take 4-6 weeks from the time of application. Expedited service is available, at a cost, but provides a quicker processing time. The Cal Poly International Center highly recommends students apply for a passport early in the study abroad planning process.
Visas
Students are responsible for determining the visa requirements of the country/countries they plan to visit abroad. It is recommended that students do research on visa requirements early, as the application process can be lengthy. For U.S. citizens, the Entry/Exit requirements section in the Country Specific Information pages on the U.S. Department of State website can be a helpful resource. Speak with a study abroad advisor and/or program provider for further assistance.


SOCIAL MEDIA
Share your adventures abroad with the Cal Poly community! #cpglobalmustangs #learnbygoing
POLYPLANNER INSTRUCTIONS
While abroad you should regularly check your Cal Poly email messages.
You should not have any courses planned for the terms in which you will be away from Cal Poly on Study Abroad, or for any leave of absence. Your PolyPlanner should only include courses you plan to take here at Cal Poly.
Indicate your plans to study abroad in your PolyPlanner by selecting the choice of "on study abroad or exchange program.
To keep your future registration priority, follow the directions in each of the PolyPlanner emails. The Office of the Registrar will specify which terms you should update, which term you should plan (if any), and which future registration (if any) will be impacted if you don't login by a specified date. If you are away, you will still be responsible for logging in by the specified date to keep your registration priority for the term that you return to campus.
For up to date information on PolyPlanner please visit the PolyPlanner FAQ page.

TRAVEL RESOURCES