Before You Go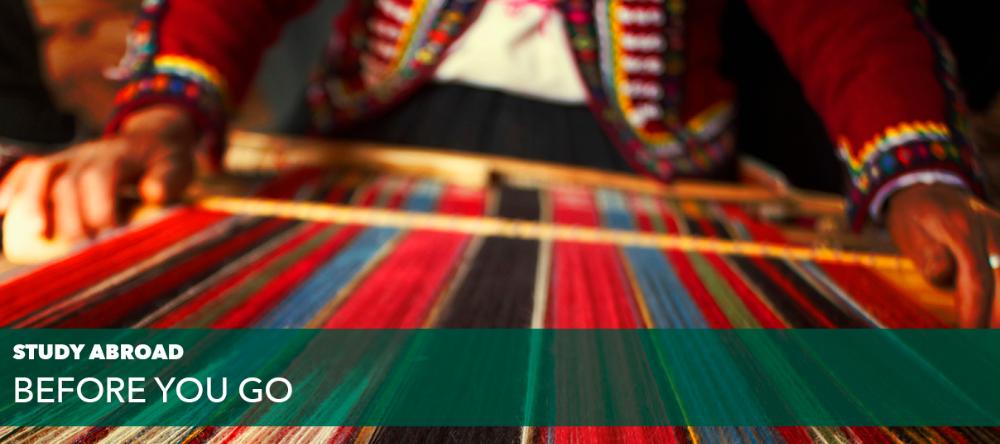 Study Abroad and Exchange Eligibility Requirements

Students must be in good academic and disciplinary standing at Cal Poly in order to be eligible to participate in study abroad or exchange programs. In addition, students must meet the eligibility requirements of their chosen programs. Academic eligibility standards vary by program and most require a minimum GPA and at least one letter of recommendation. Participants may not study abroad during their first quarter at Cal Poly. Students who are on Academic Probation or Disciplinary Probation at the time of application, or the term prior to studying abroad, must notify the International Center. Normally, such students will be considered ineligible to participate in the program unless extenuating circumstances exist, and the International Center gives its approval. Students are strongly encouraged to seek pre-approval for courses prior to departing for their terms abroad. If a program is located in a country where there is a U.S. Department of State Travel Warning, Cal Poly may not provide the approval to participate in the program, or provide pre-approval for the transfer of credits.

Student Pre-Departure Resources
View the Study Abroad Pre-Departure Orientation presentation: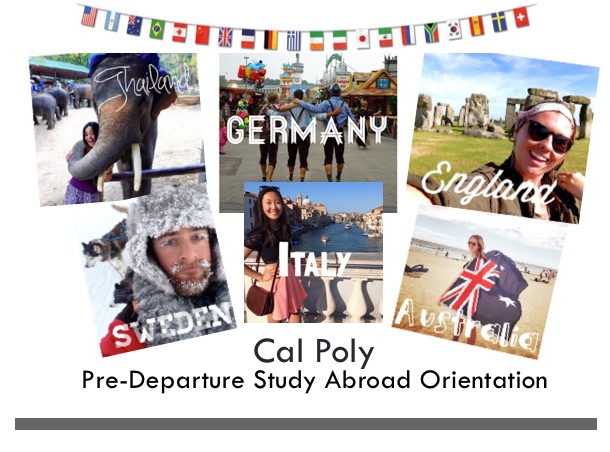 View the Cal Poly Global Programs Pre-Departure Orientation: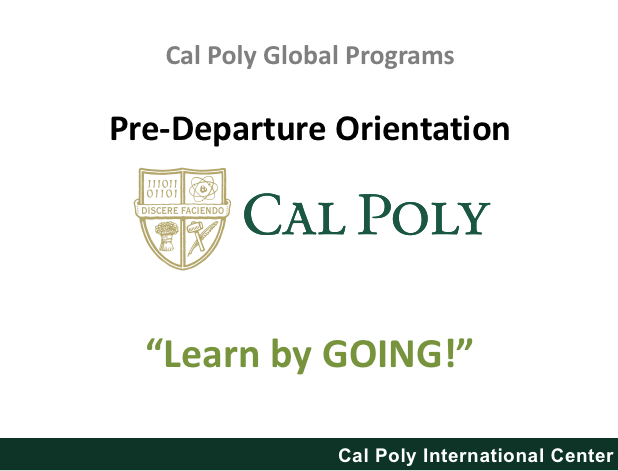 Passports & Visas
A valid passport is required to travel internationally. Each country has their own entry requirements so it is important that students review those requirements for the countries they plan to visit. For example, some countries require that visitors have a valid passport for at least a year upon entry, whereas other countries only require six months. For information on entry requirements for U.S. citizens visiting a specific country, please visit the Entry/Exit requirements section in the Country Specific Information pages on the U.S. Department of State website.
How to apply for a passport
For U.S. citizens: Visit the U.S. State Department website for detailed information on applying for and renewing passports. Check out the Passport Offices in San Luis Obispo County website for locations and application.

Regular processing time can take 4-6 weeks from the time of application. Expedited service is available, at a cost, but provides a quicker processing time. The Cal Poly International Center highly recommends students apply for a passport early in the study abroad planning process.
Visas
Students are responsible for determining the visa requirements of the country/countries they plan to visit abroad. It is recommended that students do research on visa requirements early, as the application process can be lengthy. For U.S. citizens, the Entry/Exit requirements section in the Country Specific Information pages on the U.S. Department of State website can be a helpful resource. Speak with a study abroad advisor and/or program provider for further assistance.

---
Information for Students with Disabilities

Disclose your disability-related accommodation needs to program staff soon after you have been accepted into a program so appropriate arrangements can be addressed in advance.

Remember that other cultures may provide disability access in a different way. Learn about what types of accommodations are provided in your host country, and be open to different ways of accommodating your disability.

Be flexible with your country or program selections due to the potential lack of accommodation services. Have some backup programs in mind.

Find out as much as you can in advance about your host culture and how they view disability by reading, talking to other students, and attending pre-departure orientation sessions. The more you know, the better prepared you will be to interact in the new environment.

Think about how you will answer questions about your disability in the language of your host country. Look up key vocabulary words ahead of time.
Resources for Study Abroad Students with Disabilities
Disability Statement for Study Abroad
Cal Poly will attempt to arrange reasonable accommodations for students with disabilities, although it is important to note that countries and educational institutions differ in their infrastructure and ability to accommodate individuals with disabilities. Certain sites are better equipped to assist students with disabilities, and we recommend speaking to a Study Abroad Advisor and the Disability Resource Center early on in the application process about any and all needs for accommodation.