Financial Aid & Scholarships
FINANCIAL AID
Cal Poly students may be eligible for financial aid if enrolled at least half time in a Cal Poly study abroad program. Even if you have never received financial aid, you may want to investigate the possibility of receiving financial aid when you study abroad. You can connect with the Cal Poly Financial Aid Office via email at
financialaid@calpoly.edu
.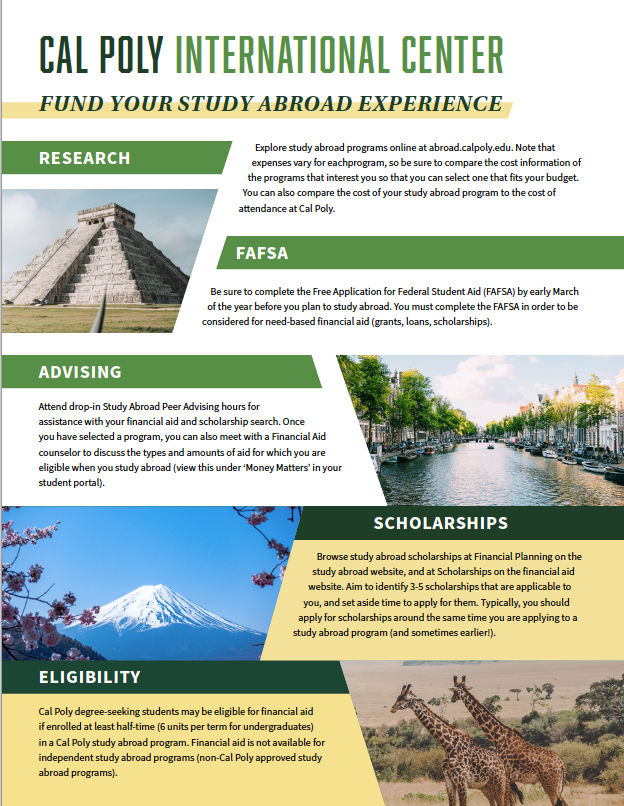 1. Start by reading the

Fund Your Study Abroad Experience

handout to see how financial aid can be applied to study abroad.
2. Complete the FAFSA
- To apply for financial aid, complete the
Free Application for the Free Application for Federal Student Aid (FAFSA)
by the March 2 deadline. Once your FAFSA is complete, you will be considered for the various types of financial aid offered at Cal Poly, including grants and loans.
3. Get your Award Adjusted
- Once your financial aid is awarded, verify which types of financial aid can be applied to your study abroad program. Consult a Financial Aid Advisor to see if your aid can be increased in order to allocate for any additional costs associated with your study abroad program. Remember to accept your award in your portal!
4. Plan Ahead
- Your Financial Aid Award will be disbursed on or around the first day of the quarter at Cal Poly, regardless of the actual start date of your study abroad program. Plan ahead to cover your plane ticket and other pre-departure or arrival costs, which you may need to pay for before your Award is disbursed.
5. Summer Financial Aid
- Financial aid is limited in the summer. Awards typically consist of any unused loan amounts from the previous academic year. Consult a Financial Aid counselor for details.
Note: The Financial Aid Office does not sign financial aid disbursement forms for Cal Poly Partner Programs. You need to accept any loans you wish to borrow, complete the form, and provide a copy of your Financial Aid Award Letter (print it from your Cal Poly Student Center, under "View Financial Aid"), and send both to your program directly. If you requested a budget increase, wait until the increase is reflected on your award before printing the award letter.
Watch this video to learn about Financial Aid & Scholarships for Study Abroad:
---
SCHOLARSHIPS
You are encouraged to research and apply for merit- and need-based scholarships to help fund your study abroad experience. Below are several categories of scholarships and fundraising tools.
​Cal Poly Study Abroad Scholarships
(Open to Cal Poly students)
Cal Poly Global Programs Scholarships
(Open to students on Cal Poly Global Programs)
CSU IP Scholarships
Partner Program Discounts & Scholarships
National Study Abroad Scholarships
Country-/Region-Specific Scholarships

Other Scholarship Resources & Fundraising Tools

Post-Graduation and Graduate Studies Awards
See also our
Post-Baccalaureate Fellowships
and
Go Abroad Again
pages for more ideas and resources.
---
Boren Awards for Study Abroad
Scholarship Tips
Dedicate several hours to browsing scholarships.
Set a goal to identify 3-5 scholarships or grants to which you will apply.
Set aside several days to work on your scholarship applications.
Apply for scholarships around the same time you are applying to study abroad.
Remember: focus on quality in your study abroad scholarship applications!
Scholarship & Financial Aid Advising