Go Abroad Again
You studied abroad and now you (understandably) want to find a way to go abroad again.
You can certainly participate in
another abroad program
while at Cal Poly. But there are many ways in which you can return abroad after graduation, whether as an
English language teacher
, as a
volunteer
through an organization like the Peace Corps, or even through an international
work
placement.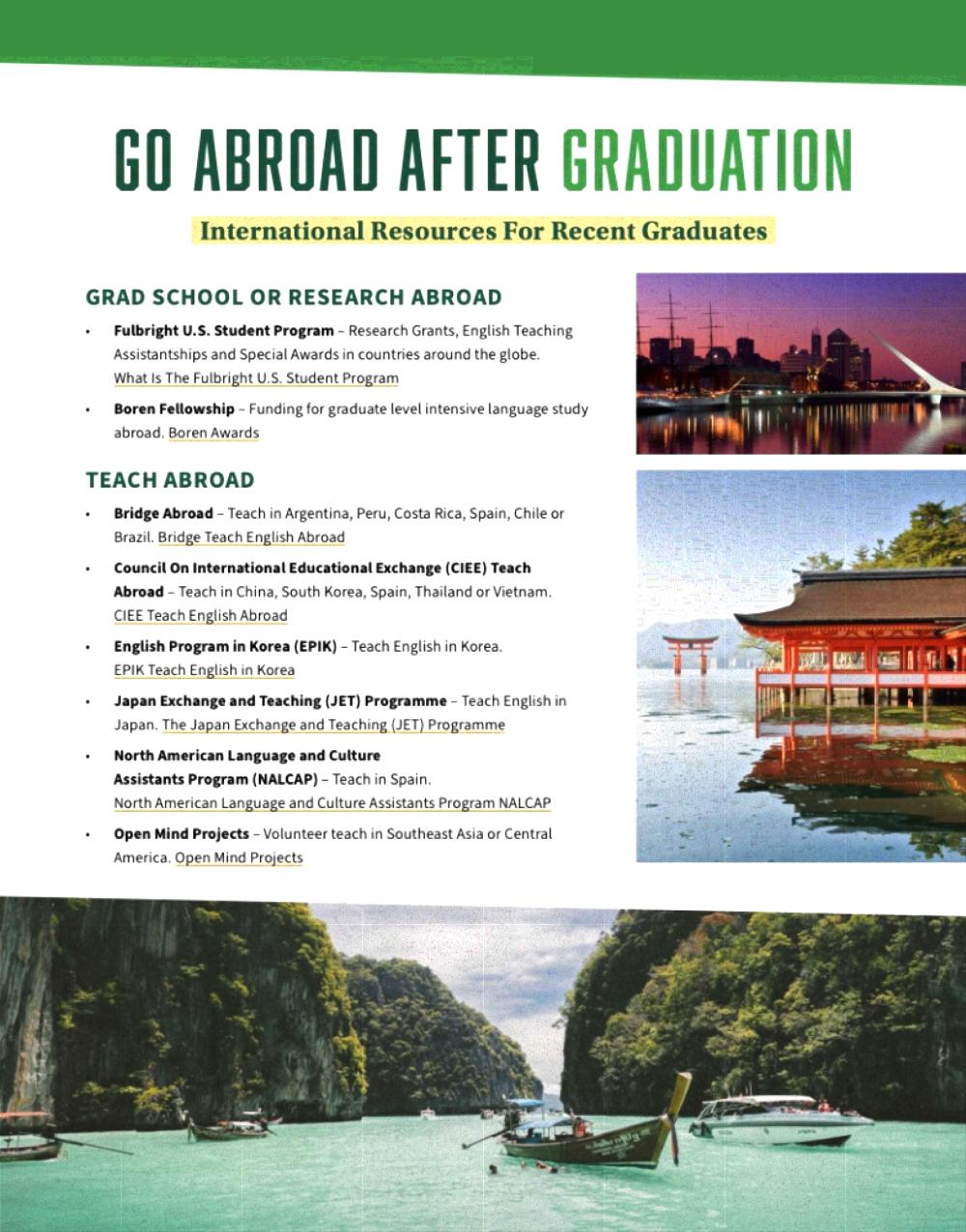 Finding the right opportunity for you takes time and research—so the sooner you begin thinking about the process, the better positioned you will be.The links below provide some information that may assist you, and be sure to download out
Go Abroad After Graduation handout
.
Please note that other than our approved study abroad offerings, we do not endorse any particular programs.
It is your responsibility to carefully research and review any post-graduation program before participating in it.
---
CAL POLY STUDY ABROAD PROGRAMS
Use our search page to sort through our hundreds of options, or if there is a particular type of program that interests you, visit our or Program Types pages:
RESEARCH/INTERN ABROAD
Many of Cal Poly's Partners offer credit-bearing internship and research opportunities as part of a semester or summer abroad program, but there are other organizations that can help you locate non-credit bearing internship/research opportunities, both before and after graduation.
TEACH ABROAD
English-language teachers are in demand worldwide, and taking a position as an English-language teacher is a way for recent US college graduates to find paid employment overseas. Teaching abroad is also an excellent opportunity for your own continued education and growth. By doing it, you'll:
gain valuable work experience
be part of a multicultural workforce and create a broad international network of colleagues and friends
improve your own foreign-language skills
learn a great deal more about your own and your host culture
become more adaptable, flexible, and confident
You don't need to be an education major to find work teaching English abroad. However, acquiring some experience—as a teacher, a tutor, a mentor—will prepare you for your role as a teacher and make you a stronger candidate. Learn more about how to gain experience and find programs on
teaching abroad
below.
VOLUNTEER ABROAD
Volunteering abroad allows you to put your Cal Poly education into practice and gain valuable work experience and utilize while immersing yourself in another culture. As with Teaching Abroad, there are many ways in which you can find volunteer opportunities. You can volunteer with a local not-for-profit or religious group, can apply to a U.S.-government based program like the Peace Corps, or work though an organization that can help you find a volunteer placement abroad. Before you decide on a project, though, be sure to do your research! See our tips on
volunteering abroad
and explore some options below.
WORK ABROAD
Employers value international experience. For many, it's a hiring priority (QS, "
Employer Insight Report
," 2020), and others indicate they are willing to offer higher salaries to candidates with international experience (
Hostelworld
, 2018). Put your degree and skills to work by joining the global workforce! We offer additional resources on
working abroad
below, and be sure to read about how to
market your abroad experiences
when applying for jobs, whether in the U.S. or abroad.
---
TEACHING ABROAD
Is teaching abroad right for you?
Before applying, do some research. Here are a few sites that can offer you information on what teaching abroad entails, how to evaluate options, and how to find possible positions.
How to Gain Experience
Take Advantage of On-Campus Opportunities
. Become a tutor in your discipline; work in the Writing Center; volunteer to be an
International Welcome Ambassador
; join a
student organization
that mentors or tutors students in local schools.
Volunteer in the Community
. You can do this through a Cal Poly
student organization
or find a local organization in SLO on your own, but you can also think volunteer in your home community over the summer and during breaks.
TEFL/TESL/TESOL Training
. Being a native speaker is a desirable trait if you want to be a language teacher abroad, but it's not enough to make you a good teacher. TEFL (Teaching English as a Foreign Language), TESL (Teaching English as a Second Language), and TESOL (Teachers of English to Speakers of Other Languages) courses provide valuable training, including reviews of English grammar, practice creating lesson plans, information on cross-cultural communication styles, and general teaching tips, all of which can make you a more qualified and desirable candidate. Courses vary in length and depth of training, so do some research and think carefully about the type of training you want or need. You might look at actual job postings to see what qualifications are required for the country, type of school, or length of contract you are looking for.
How to Find a Position
There are numerous ways to find a position teaching English abroad. Below are some ideas, and you should also talk with Career Services here at Cal Poly. Please note that the International Center does not endorse any particular program and it is your responsibility to carefully research and review any program before participating in it.
Placement Programs: There are many organizations that, for a fee, will help connect you with a paid or unpaid position teaching English abroad. CIEE, one of Cal Poly's Partner Program providers, for example, has a post-graduation Teach Abroad program. Some providers include TEFL/TESL training or will provide in-country support, including an orientation and help finding housing. Here are a few placement programs, but there are many others.
Government-Sponsored Programs: The governments of some countries have established programs to bring English-speakers into local schools. Positions are paid and some may not require previous experience (but may still be more competitive than other options).
Fulbright English Teaching Assistantships (ETA) – Places awardees in classrooms abroad to assist the local English teachers and serve as cultural ambassadors for the US. The age and academic level of the students varies by country, ranging from kindergarten to university level. In addition to the ETA program, Fulbright offers research and study grants to recent graduates. For more information, see the Post-Baccalaureate Fellowships page.
Japanese Exchange and Teaching (JET) Programme – JET Programme participants may be employed as an Assistant Language Teacher (ALT), Coordinator for International Relations (CIR), or Sports Exchange Advisor (SEA).
Peace Corps –Peace Corps Volunteers work at the grassroots level to create change that lasts long after their service. The Peace Corps has six sectors in which volunteers may work, one of which is Education. For more information, see the Post-Baccalaureate Fellowships page.
Teaching at a Private School (independently arranged placement): You can forego using a placement provider or applying to a government-sponsored program, and instead research available positions at private schools abroad. You will need to contact the English school directly and negotiate the terms of your contract.
---
VOLUNTEERING ABROAD
Tips on Volunteering Abroad
Finding your own placement through a local organization offers you a chance to work with people you already know and with whom you feel comfortable but can also be difficult and can require a lot more leg work on your part. Using a placement organization will provide you with a wide range of possibilities but will require that you pay some sort of fee to offset the cost of the services the organization provides.
As you are considering programs, keep the following things in mind.
Duration: How much time are you willing to devote to the project? Programs can range anywhere from 2-4 weeks up to 2 years.
Location: What region or country are you interested in? Would you like to volunteer in a developing nation or industrialized nation? In an urban city or rural village?
Skills: What skills or strengths do you have and do they apply to the type of project are you hoping to work on? Think about the type of work you hope to contribute and asks yourself what skills may be necessary to make sure there is a good fit.
Language: Depending on the nature and location of your volunteer project, having some proficiency in the local language may be necessary.
Cost: Many volunteer-based organizations operate on very limited funds and resources, and so their volunteers need to financially support themselves. Other programs may charge a fee to offset the costs of basic expenses (e.g., housing, food, local transportation) and sometimes to support the local on-site project director. Be sure to understand exactly what is included in the program fee. If there is no program fee, it may mean that you are responsible for your housing and meals independently.
A few Web-based resources you might look at as you think about your options are:
Volunteer Programs
Please note that the International Center does not endorse any particular program and it is your responsibility to carefully research and review any program before participating in it.
---
WORKING ABROAD
Put your degree and skills to work by joining the global workforce.
Working abroad allows you to learn more about your chosen field, develop new work skills, and see how culture influences the workplace. At the same time, you'll enhance your language and intercultural communication abilities, be a part of a multicultural workforce, and will form an international network of colleagues.
Below are links to some programs that can help you find overseas work placements and links to some websites that offer advice to US citizens working abroad. Please note that we do not endorse the programs listed below: rather, we offer them simply as a place where you can begin your research.
Cal Poly Career Services
Your first step should be working with
Career Services
here at Cal Poly. They can point you to various job search resources, help you refine your resume and adapt it to different cultural standards, and offer interview advice.
Among the online resources available through Career Services is
GoinGlobal
, which contains extensive and up-to-date content on international career topics such as country-specific job search sources, work permit/visa regulations, international resume examples, cultural interviewing advice, and much more.
Work Abroad Resources and Programs
See also our
Marketing Your Experience
page.
US Citizens Working Abroad