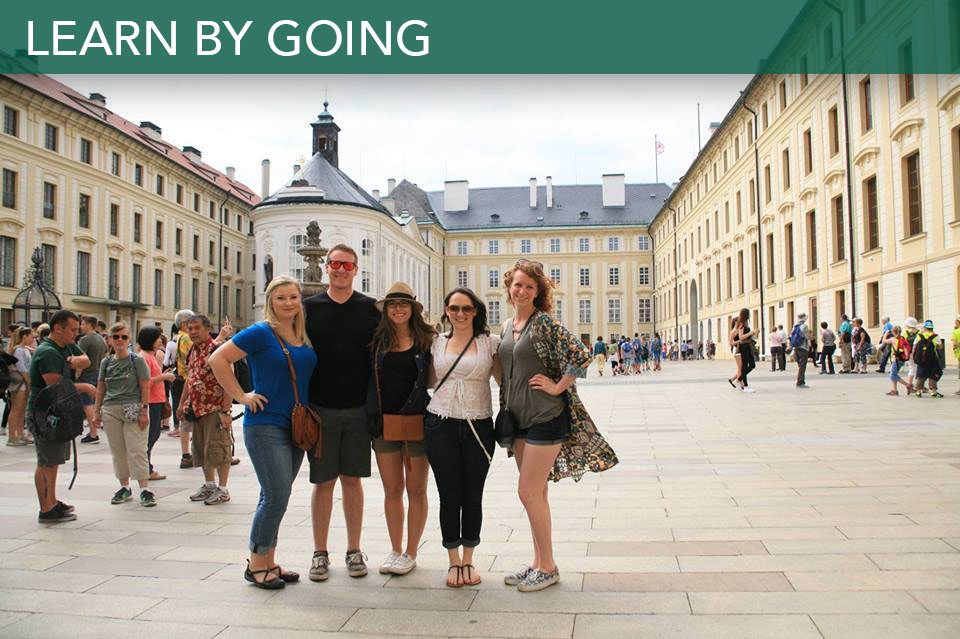 Castle Hill, Prague. Photo by Chelzea Furtado, Cal Poly Symphony Student
Introduction

to the Individual Faculty/Staff Travel Request Process
All international travel conducted as Cal Poly business must go through the Cal Poly International Center. Travel abroad may include activities such as attending conferences, participating in tours, conducting funded research, or taking students on non-credit international field trips. Travel requests must be submitted to the International Center by the deadlines listed below. The International Center will process the paperwork and submit to the Provost's office on your behalf. Expenses related to international travel should not be incurred until you have completed the travel authorization process and received written approval for your travel. Deadlines for receipt of a completed individual faculty/staff travel packet by the International Center:
Individual Travel Request deadlines
30 days in advance for international travel to non-hazardous destinations
60 days in advance for international travel to high hazardous destinations
*Please review the
"

High Hazardous Countries Lists

"
to find out if your destination is deemed high hazardous.
If the country you are traveling to has a travel warning or is listed on the CSURMA High Hazard List, it will take longer to process your travel packet.
It is recommended that travelers submit packets early to allow additional time for internal deadlines. This process requires some information gathering on your part -- we encourage you to start early! Please see the faculty/staff individual travel
flowchart
for more information.
Please note - there is no need to complete an international travel packet or purchase Cal Poly foreign travel insurance for U.S. Territories such as Puerto Rico, Guam, Northern Mariana Islands, the U.S. Virgin Islands or American Samoa.
Ready to Begin?
The following steps will help guide you through the process of requesting your international travel authorization (Faculty/Staff Traveling without Students).
The application process works best with a desktop or laptop computer. Please do not use your cellular phone.
Step 1:
Seek approval from your department/division and dean's office by completing the
Travel Authorization Forms
.
The Travel Authorization, itinerary, and cost comparison forms must be completed and uploaded prior to the final submission process. The "Travel Authorization" is on the first tab and the "Cost Comparison / Itinerary" is on the second tab of the spreadsheet.
Step 2:
Review the international travel resources including "
Before you Go
."
Step 3:
Save or print out the directions below.
Step 4:
Click the "Apply Now" button located at the top and bottom of the page.
Step 5:
Create an Applicant Profile (only needs to be completed the first time you login).
Step 6:
Add your itinerary. You may create more than one leg of your travel in the same application by continuing to build your itinerary this same way.
Personal travel attached to international travel for business purposes may be taxable. If you have questions, please review the

CSU travel policy

or contact

Beatrice Jones

for assistance.
Step 7:
Complete the
Registration Forms
and
Signature Documents
. Upload the Travel Authorization (signed by the traveler, department & dean's offices). We will obtain the Provost's signature on your behalf.
Step 8:
Select "Update." You will receive an e-mail notification from the Cal Poly International Center when the process is complete. This process typically takes 1-2 weeks. During this time, you
may
be asked to provide additional information.
Returning to View/Complete Your Request
You may return to work on your travel request at any time, as long as it is completed prior to your departure date.
You can save your application by clicking the "Update (select only once)" button at the bottom of the application page.
To return, click "LOGIN/REGISTER" at the top of the page to be taken to your Applicant Home page. From here, click on the link for "Individual Faculty/Staff Travel Request." Please do
not
hit "Apply Now" from this page more than once, as it will create multiple applications for you.
Why Are These Steps Important?
Faculty/Staff registration in the system allows the Cal Poly International Center and the University the ability to provide our travelers with the necessary health and safety support, including travel medical insurance information and other pre-departure resources. Additionally, in the unlikely event of an emergency while abroad, the Cal Poly International Center will be able to quickly coordinate response and assistance with the insurance carrier and relevant departments.
Questions?
The Cal Poly
International Center
welcomes questions,
intltrvl@calpoly.edu
or (805) 756-6118.